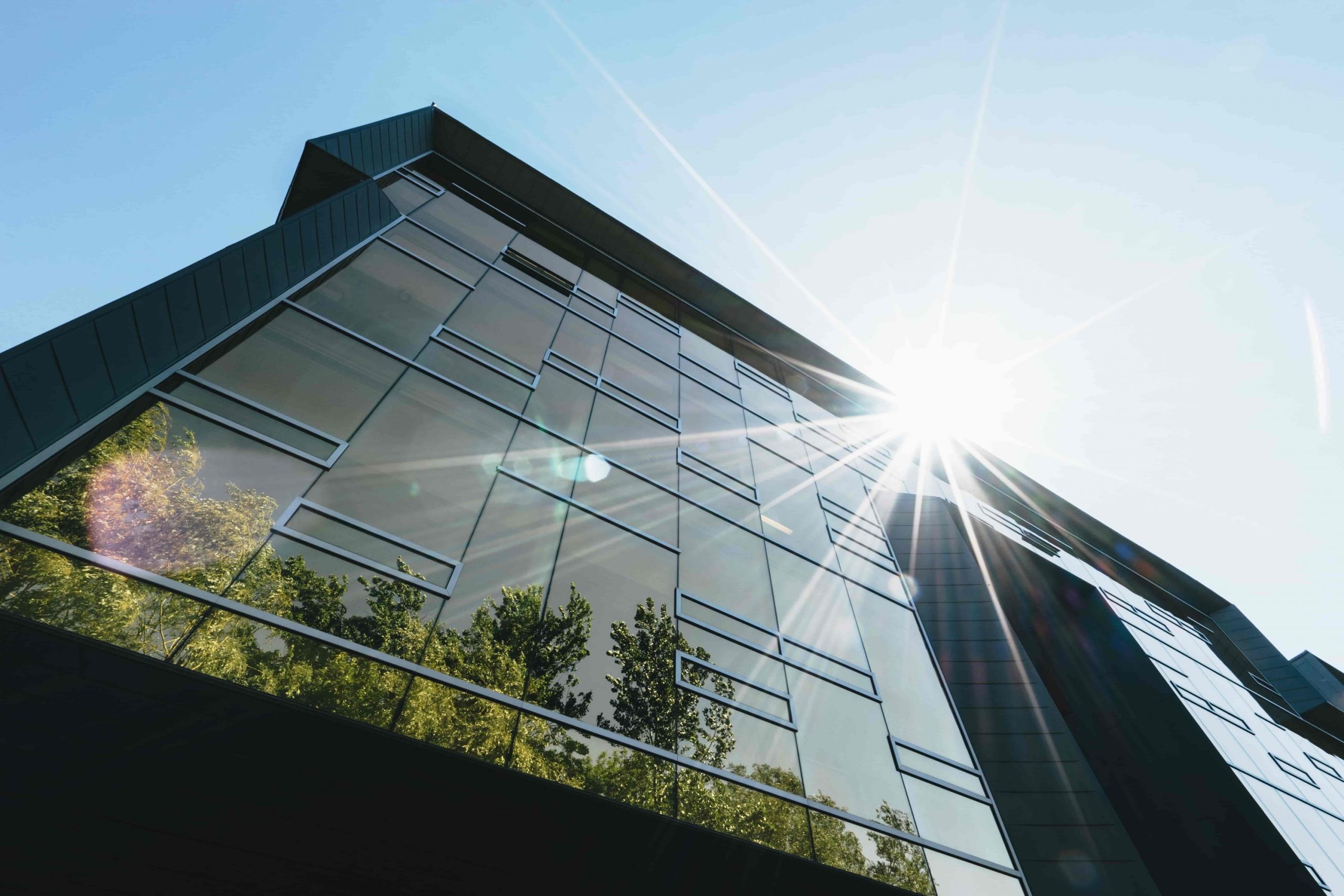 Can Green Buildings Improve Wellbeing at Work?
July 4, 2022
Categorised in: Employee Wellbeing
In the age of Hybrid Work, the relationship between employees and the office has shifted significantly. Many staff members, at least in part, now prefer to do their job at home to maintain a better work-life balance. This means that moving forward, office spaces must be designed to support comfort, accessibility, and Wellbeing at Work.
The link between buildings and Employee Wellbeing
In the last few years, businesses have started to offer more support for Employee Wellbeing Incentives, and for good reason. Not only can they help staff look after their mental health, they also aim to create a more positive work environment within a company. But wellbeing measures, whilst undoubtably vital, aren't the only thing that can impact this. The office space in which your employees congregate can also be crucial.
When they're in the office, employees will spend 8 hours of their day inside a building. Thus, the conditions of that building can also impact an individual's happiness, their Engagement with Work, and their overall productivity. This is the link between building design and wellbeing at work that some studies, such as those conducted by the World Green Building Council, have begun to highlight in recent years.
What is a green building?
Green buildings are structures that aim to be sustainable and resource efficient. They are designed to be eco-friendly in design, construction, and operation, either through using renewable energy sources or by offsetting their emissions. To do this, green buildings will feature smart design choices that aim to benefit their occupants as well as the local environment.
How can smart building design improve Wellbeing at Work?
We've already established How Important the Office can be to Employee Wellbeing, so how can green building design help to improve these spaces? Well, many sustainable design choices can also help to promote a positive work environment, such as:
Air quality improvements – green buildings emit little to no air pollutants, and an eco-friendly ventilation system can boost air quality; both of which can help increase productivity.
Floral spaces – many green buildings offset some emissions with natural features; having plants and floral spaces close-by can make an office significantly more appealing to work in.
Lighting – natural light often plays a bigger role in these designs, which can boost wellbeing at work and can even help to improve Sleeping Patterns.
Aesthetics – as simple as it sounds, green buildings are modern and visually engaging, and this alone can make them appealing as a workspace.
Hive360: Prioritising Employee Wellbeing
An office environment can go a long way when it comes to our wellbeing at work, but so can Employee Benefits. That's why we offer staff perks as standard with Our Services, and supply an array of mental health support through our Engage App.
To find out more, see our Pay, Pension, & Perks options today.