When you outsource your payroll and vital employment administration to HIVE360 we include our employee pay and benefits app as standard within our solution. It's a value-added employee perks app which unlocks access to a vast array of inclusive features. Imagine the impact of offering your employees a complete package of 24/7 GP & mental health support, money-saving lifestyle discounts and streamlined employment communication in an easy to use mobile portal that's branded with your logo.
Work:Life in the palm of your hand
The HIVE360 Engage App has been designed to enhance and support the 4 cornerstones of work:life.
MY MONEY
A secure and encrypted central portal for all GDPR compliant payslips
A user-friendly pension dashboard, for access to real-time performance
Pay documents and important pay update alerts
MY WORK
A central communication platform and document storage area to welcome new starters, offer peer to peer recognition with a simple kudos system, broadcast company announcements, launch polls and surveys of your teams, and so much more
Access to one of the UK's leading Online Training Platform for self-development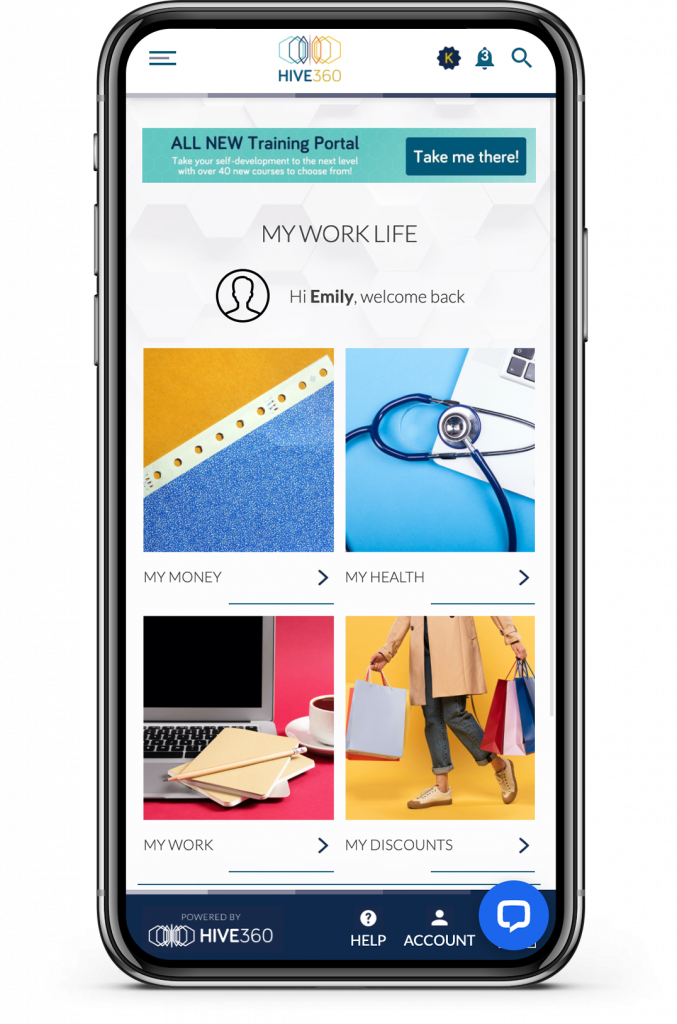 MY HEALTH
Personal doctor service - with 24/7 'click to call' access to NHS GP
Personal mental health counselling and crisis support helpline
Carer support - a vital resource of telephone advice and online guidance for working carers
A library of health and well-being advice, guides and resources
MY DISCOUNTS
Access to the largest employee discount scheme in the world, easy to use transparent savings on everyday spending, instore and online
Attractive mobile phone savings
National gym discounts
Optional Added Extra Features
We have a range of optional additional features that can be added to your own app to boost your worker's experience including a secure and confidential incident reporting feature, staff kudos/ recognition scheme, and an easy to use employee survey plugin.
With Easy API integration with other technology platforms, it's a mobile perks app capable of bringing your other candidate and HR systems together seamlessly in one mobile experience for your workforce. Try Our No Obligation Trial Today.