The PEO model explained
June 12, 2018
Categorised in: Employee Benefits, PEO
The Professional Employment Organisation (PEO) model, which is already successful in the US and other parts of the world, has only recently started to grab the attention of UK employers. Enabling small and medium sized businesses to offer employees unprecedented benefits and making business operations smoother for larger employers, this framework has a number of advantages. Here's what you need to know about it:
Want to find out how this model applies to the UK and who's already doing it on this side of the pond? Keep an eye here for our next blog post on the subject.
What is a PEO?
A Professional Employer Organisation, or PEO, is a firm that partners up with companies, in a business to business relationship, providing a service through which an employer can outsource vital HR tasks such as payroll management, compensation, employee benefits, law and regulations compliance and more.
How does a PEO work?
The PEO will hire the client company's employees, becoming their 'employer of record' for tax and insurance purposes. The client continues to be the 'worksite employer' and manage the employee's day to day activities and core job functions, but the PEO will be responsible for payroll and payroll tax compliance, benefits administration and other HR-related administrative tasks.
What are the advantages of the PEO model?
Through this model, the PEO is responsible for pay and tax liability, attendance recording, pensions. The employer can then focus on ensuring their people's success by recognising and rewarding, incentivising and directing their daily jobs.
This saves the employer both the financial and human cost of handling payroll administration and pensions in house. It also adds reliability, accuracy and compliance to the process, by having it conducted by professionals with years of experience and with access to specialist legal support round the clock.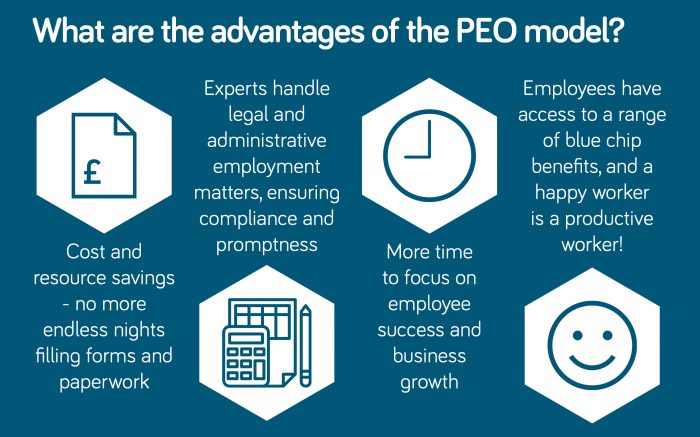 What's more, because the PEO payrolls a large number employees, it gains purchase power and it can offer workers access to a range of blue-chip benefits that would otherwise only be available to larger companies.
In times where employee engagement is considered the biggest challenge of 2018 by 41% of HR Directors in the UK*, this is a specially important advantage. And the results are concrete – in the US, businesses using the PEO model experience 15% reduction on staff turnover**.
When was this model created?
The PEO model was created in the US in the late 1960s, when large companies started scooping all the talent and smaller employers where struggling to hire and retain staff because they couldn't offer the same benefits a larger company would. Using the concept of group purchasing power, smaller employers had a better chance to fight for talent and gain equality in the labour pool.
Who is using this model already?
By 2016, there were between 780 and 980 PEO's operating in the US, providing services to between 156,000 and 180,000 small and mid-sized businesses and employing between 2.7 and 3.4 million people**. A similar model of business is also present in Germany and Sweden.
**NAPEO
Tags:
employee benefits
,
employment
,
employment model
,
HR
,
HR management
,
humanresources
,
PEO
,
professional employer organisation