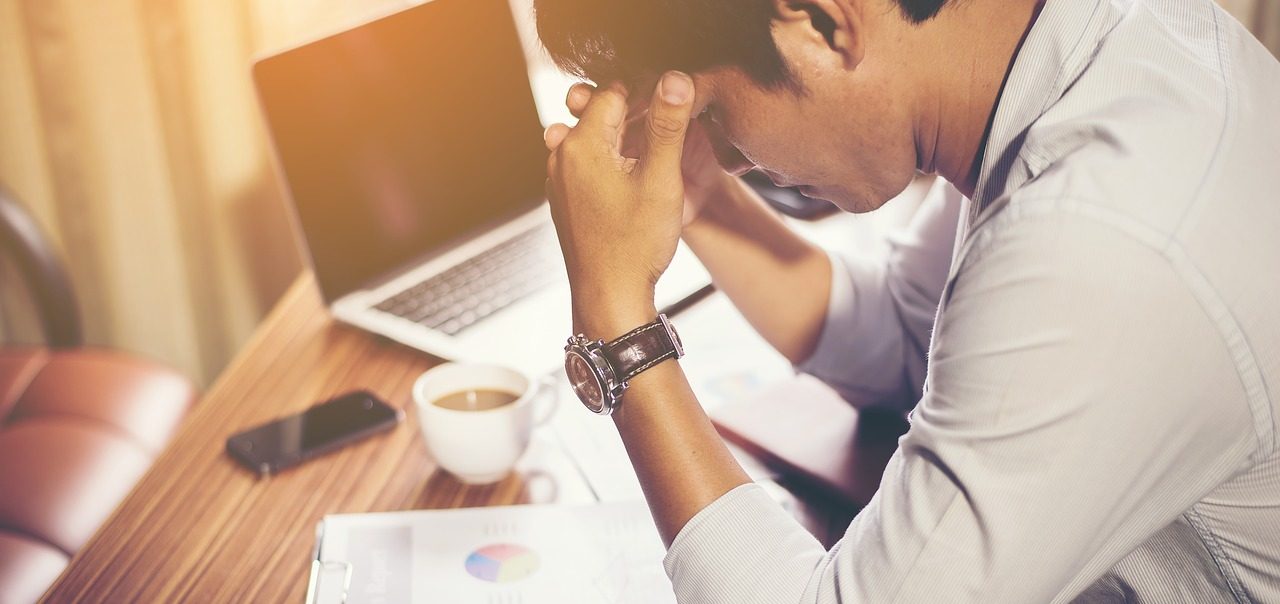 Mental ill health and stress in the workplace – facts and solutions
August 7, 2018
Categorised in: Employee Wellbeing
In 2016/17, 12.5 million working days were lost due to stress, depression or anxiety in the UK. Such a number doesn't come as a shock, if you take into consideration the fact that one in every four people and one in every six workers suffers from a mental health condition. That is over five million workers of the over 31 million UK workforce who could be suffering from a mental health condition, as reported by Deloitte.
Stress is listed among the top five most common causes of absence by 47% of companies in the UK, and mental health issues is on that same list for 34% of companies, according to a 2016 CIPD report. Numbers like the ones above make clear that employee stress and mental ill health are a major challenge for businesses.
Employee health and wellbeing play a major role in both absenteeism and productivity, and investing on improving both areas could be the most efficient approach to scale down losses. What can you start doing today in your workplace to enhance staff's health and wellbeing? What can you give your employees to stimulate them to look after their own health and wellbeing?
Prevention:
There is an array of actions an organisation can take in order to reduce the risk of job stress and mental health problems in the workplace. These are some of them:
Develop a Mental Health Strategy
It is estimated that mental ill health costs UK employers over £34 billion each year, that means that besides being the right thing for your employees, having a prevention and support strategy in place also makes economic sense.
Create a culture of openness
When the worker can be open about feeling anxious, low or stressed, the manager has the opportunity to make the right adjustments early on. But one in five people feel like they can't tell their manager if they are overly stressed at work.
Creating a culture of openness can be done through promoting open dialogue, regularly catching up with team members and even having a time on team meetings for people to talk about wellbeing and stress.
Raise awareness
Unfortunately, talking about mental health at work is still a bit of a taboo – so much  that 95% of employees calling in sick with stress gave their employers a different reason for their absence.
You can use newsletters, blogs, useful links and FAQ sheets to raise awareness about stress and mental health in your business and ensure your mental health strategy is clearly communicated across the business.
Have suitable break spaces
A space where people can relax and take breaks to unwind in the office can help prevent stress from building up as well as encourage social interaction – social interaction at work can promote cross team collaboration and ignite new ideas.
Create a buddy programme
Sometimes people find it less intimidating to speak to someone who is not their manager or not in the same team. Ask employees to volunteer to be a person colleagues can come to and talk about their issues and concerns. The buddies can give advice and encourage other workers, building their confidence.
To make this initiative even more effective, offer the volunteer buddies training so that they can become mental health first aiders.
Stimulate work/life balance
Poor work/life balance reduces productivity and it can easily lead to stress and mental health problems. Encouraging staff to work sensible hours, take full lunch breaks and avoid working at weekends and holidays, and to take their full annual leave entitlement are a few ways to prevent that. A simple idea is to apply an e-mail curfew from 7pm to 7am.
Support:
Identify the problem
Although there might not be external clues of a mental health problem, if there are any, line managers work on a daily basis with people on their team and will be able to identify signs. According to Mind, the symptoms can include changes to behaviour, mood or interaction with colleagues, changes in work output, motivation, level and focus, difficulty to make decisions and find solutions to problems, tiredness, anxiety and loss of interest in activities, changes in eating habits, appetite and increased smoking and drinking.
Talk about it
As mentioned before, creating a culture of openness is key in handling mental health issues at work, both for prevention and support. If an employee feels comfortable to speak, then it is easier for their line manager to help them.
When having a conversation about someone's mental health problems, it is important to choose a quiet and private place where the person feels equal, maybe somewhere outside of work. It is also important to encourage people to talk, ask direct and simple questions and of course, to listen and to be honest and clear if you have any concerns with practical matters such as high absence, for example.
Develop an action plan
After talking to the worker about their mental health, the next step is to develop a plan to help them cope and recover. The action plan should be personalised to each worker, as everyone's experience of mental health issues is different. Symptoms and triggers, impact of those on the worker's performance, what the manager can do to support and what positive steps can the worker take are things that can be included on the plan.
Make the necessary adjustments
More often than not people know what adjustments can be done to help them, and that's when having open communication with your staff is useful again. Most adjustments are simple and small, like changes to break times, moving the worker to a quieter space, regular meetings to prioritise workloads or reallocation of some tasks; work together with the employee to define what will be the best solution for them.
[Our white paper lists 3 key employee wellbeing challenges, including mental health, and how to tackle them. Click here to download it.]
Besides that, Hive360's employee app provides workers with access to 24/4 NHS approved GP phone services and professional counsellors to handle a number of mental health issues such as stress, drug and alcohol abuse, debt, marriage problems and more.
Furthermore, employees also have access to a wealth of health and wellbeing advice as well as thousands of leisure and dining discounts, which can also support wellbeing and happiness, boosting loyalty and productivity within your business.
If you want to find out more about Hive360 can help your business and your employees, contact us.
Sources: CIPD, Deloitte Mind, HSE.
Tags:
Employee Welfare
,
Employee Wellbeing
,
Health
,
HR
,
humanresources
,
Mental health
,
Wellbeing
Cookies on the Hive360 website
We are using cookies to provide statistics that help us give you the best experience of our site. you can find out more or switch them off if you prefer. However, by continuing to use the site without changing settings, you are agreeing to our use of cookies. Learn More.
ACCEPT