PEO: The Future For Engaging Workforces
August 27, 2019
Categorised in: PEO, Professional Employer Organisation,
New Expectations
The growing number of younger workers entering the workplace brings a new lease of life to the world of employment, and also new expectations. The role of human resources has conventionally heavily revolved around managing the employment of staff and their contracts. However, younger workers entering the world of employment are viewing salary as only one part of the employment package, leaving employers no other choice but to adapt their approach to human resource.
David McCormack, chief executive of Hive360 said, "Millennials are looking for more than just a good salary. They want to work for businesses that truly embrace social responsibility and they're looking for more defined benefits. The pension aspect of employment is also becoming much more of an intrinsic expectation of the individual worker, who wants instant detailed access to their pension pot".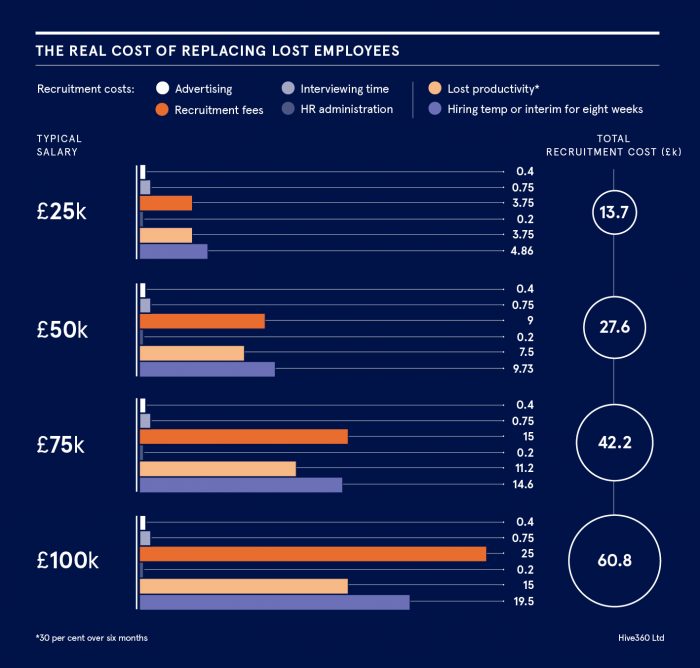 Businesses must now be considering both their employees current and future expectations, for example; their mental and physical health as well as their salary expectations. Failing to meet these expectations can lead to employees performing below what is expected of them, becoming unmotivated and disrupting the rest of the workforce. These employees can not only impact their performance but also the performance of others by voicing how they are unmotivated. If your business can help employees who are facing challenges of their own by providing access to external resources that can help them contribute to a healthier lifestyle, this should assist the long term success of your business.
Recent research from Hive360 has revealed that the cost for replacing an employee ranges from £14,000 – £50,000 depending ontheir position. You might think that those figures are over exaggerated but it's not just the cost of recruiting a new employee, the cost in loss of productivity from losing an employee can also be much higher than you think.
Managing Employee Expectations
Managing your employee's expectations might sound easy and inexpensive but when you take into consideration the time it takes to achieve all of what we've mentioned above, the costs soon add up. The human resource function is changing dramatically and in order to keep up with employee demands, you will likely have to take on new members of staff to manage them.
Fortunately, there is an organisational model available called a professional employment organisation (PEO). This model has been used in the United States for over 30 years and has now started to gain popularity in the UK market. A PEO allows smaller organisations to receive the same support services as a larger company. This is done through bulk buying power as organisations will outsource their employment tasks to a PEO, it allows them to purchase support services at a dramatically reduced cost.
Organisations can benefit massively by working with a PEO that contains great expertise in employment compliance and employment support. These services can help your business stay fully compliant with forever changing legislations, avoiding unwanted penalties and tax bills. They can also offer various services such as online doctors, mental health counsellors and money saving discounts. Employees of your organisation will perceive this as a better level of care which can increase their productivity and longevity.
Personal Service and Umbrella Companies Have Had Their Day
The introduction of IR35 by HMRC has seen a huge reduction in personal service companies (PSC) and umbrella companies. The ban on travel and subsistence claims wiped out any advantage umbrella companies offered overnight. With these services diminishing rapidly, the alternative solution of partnering with a PEO is looking more and more advantageous.
Hive360 Offer A Risk Free HR And Payroll Solution
Hive360 are that PEO solution you are looking for! We ensure that we deliver exceptional customer service, placing our customers at the centre of the business. Contact us today to find out more about our fully compliant employment model and the boost in employee engagement we help you to gain through a ground-breaking pay, perks and pensions portal.